Last Updated on October 1, 2023 by Mohd Salman
Source:- Wikipedia
Source:- IMDb
Xolo Maridueña is one of the rising stars in Hollywood, thanks to his breakout role as Miguel Diaz in the hit Netflix series Cobra Kai. The 22-year-old actor has also landed the coveted role of Jaime Reyes / Blue Beetle in the DC Extended Universe (DCEU), making him the first Latino superhero to headline a live-action film. But how much did he get paid for playing the iconic character?
According to sources, Maridueña received a salary of $850,000 for starring in Blue Beetle, which was released on August 18, 2023. This is a significant increase from his previous earnings, as he reportedly made $70,000 per episode for Cobra Kai season 4, which amounted to millions for the entire season.
Maridueña's salary for Blue Beetle is also higher than some of his fellow DCEU actors, such as Gal Gadot, who earned $300,000 for her first appearance as Wonder Woman in Batman v Superman: Dawn of Justice (2016), and Jason Momoa, who made $600,000 for his debut as Aquaman in Justice League (2017). However, it is still lower than other established stars, such as Henry Cavill, who received $14 million for playing Superman in Man of Steel (2013), and Ben Affleck, who earned $35 million for portraying Batman in Batman v Superman: Dawn of Justice (2016).
Maridueña's salary for Blue Beetle may seem modest compared to other superhero films, but it is impressive considering that the film had a relatively low budget of $104 million. This is because the film was originally intended to be released on HBO Max, the streaming service owned by Warner Bros., but was later changed to have a theatrical release due to positive feedback from test screenings and fan demand.
The film was directed by Ángel Manuel Soto and written by Gareth Dunnet-Alcocer. It featured a diverse cast that included Bruna Marquezine, Adriana Barraza, Damián Alcázar, Raoul Max Trujillo, Susan Sarandon, and George Lopez. The film follows the story of Jaime Reyes, a recent college graduate from El Paso, Texas, who becomes the host of an alien scarab that grants him a suit of armor with extraordinary powers. The film received generally favorable reviews from critics and audiences but performed poorly at the box office, grossing only $126 million worldwide against its production budget.
Despite the disappointing financial results, Maridueña has expressed his pride and gratitude for being part of the film and representing his Latino heritage. He said in an interview: \"The only thing that is on my mind right now is just the fact that he's Latino. I have so much pride in getting to be a part of this project… I think it's so important, and I don't want to stand on the soapbox for too long but representation is so important.\"
Maridueña has also hinted that he will reprise his role as Blue Beetle in future DCEU projects, such as a possible sequel or crossover with other heroes. He said: \"I think there's so much potential with this character and this universe… I would love to see him interact with some of the other heroes that we've seen before. I think there's a lot of room for growth and exploration.\"
Maridueña has proven himself to be a talented and charismatic actor who can carry a leading role in a blockbuster film. His salary for Blue Beetle may not reflect his true worth, but it is still a remarkable achievement for someone who started his career as a child model for Sears catalogs. He also showed versatility by releasing his debut single \"On My Way\" in August 2023, featuring Adriana Padilla. With his passion and dedication, Maridueña is destined for more future success and recognition.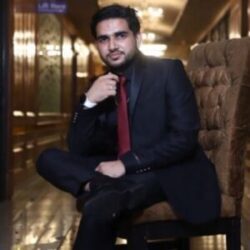 My name is Mohd Salman; I belong to Uttar Pradesh in India; I am a professional businessman, writer, and blogger. Marvel DC Crossover website is designed to provide people with news and information about Marvel Studios, DC Comics, and popular Hollywood movies. And I promise every visitor I will never give any wrong information to them.
Author's full name – Mohd Salman
Author's office address – Joya, Delhi Road, Near HDFC Bank, 244222, Uttar Pradesh, India
Author's office phone number – 8791119243
Author's office E-mail – sh6201427@gmail.com