Last Updated on July 12, 2023 by Mohd Salman
Source:- Wikipedia
Source:- IMDb
Dwayne "The Rock" Johnson is not just a household name but a larger-than-life personality. Known for his impressive physique and charismatic presence, The Rock has captivated audiences worldwide with his performances in the wrestling ring and on the silver screen. One aspect that often catches the attention of fans and admirers is his remarkable height and weight. This article will delve into how big The Rock truly is.
Dwayne Johnson Height
Standing tall at around 6 feet 5 inches (196 cm), Dwayne Johnson is an imposing figure. His towering height makes him instantly recognizable and gives him an undeniable presence in the wrestling ring or on the movie set. With his muscular build and commanding stature, he has often played roles that require physical strength and dominance.
In addition to his height, The Rock is known for his incredible physical strength and athleticism. Throughout his wrestling career, he showcased his power and agility, earning a reputation as one of the most electrifying performers in the history of professional wrestling. His chiseled physique, sculpted muscles, and impressive strength have made him a symbol of fitness and motivation for many.
Dwayne Johnson Weight
Regarding weight, The Rock's numbers have varied throughout his career, depending on his specific roles and training goals. As a professional wrestler, he weighed around 260-270 pounds (118-122 kg). This weight allowed him to be agile in the ring while still having the power to execute his signature moves and overpower his opponents.
The Rock's dedication to fitness and iconic muscular build result from years of hard work and discipline. He follows a strict workout regimen and maintains a balanced diet to keep his physique in top shape. His workouts typically include a combination of weightlifting, cardio exercises, and functional training. He often shares glimpses of his intense training sessions on social media, inspiring his followers to push their limits and achieve their fitness goals.
It's important to note that The Rock's weight is not solely attributed to muscle mass. As an actor, he has taken on various roles that have required him to undergo physical transformations. For specific movie roles, such as in "Pain & Gain" and "Hercules," he gained additional muscle mass to portray the characters accurately. Conversely, for other roles, like in "Central Intelligence" and "Jumanji," he adopted a leaner physique.
Apart from his physical attributes, The Rock's charisma, and genuine personality have endeared him to fans worldwide. He has become a role model for many, not only for his physical accomplishments but also for his work ethic, determination, and positive attitude.
As with any individual's physical attributes, it's important to remember that these measurements can change over time. However, He continues to evolve and adapt his physique based on his current projects and personal goals.
Conclusion
In conclusion, Dwayne "The Rock" Johnson is undeniably significant in his towering height and impressive physique. Standing at 6 feet 5 inches and weighing around 260-270 pounds during his wrestling career, he has become an iconic figure in the entertainment industry. However, it is his passion, dedication, and relentless pursuit of success that truly make The Rock an inspiration to millions of people around the world.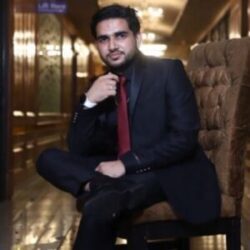 My name is Mohd Salman; I belong to Uttar Pradesh in India; I am a professional businessman, writer, and blogger. Marvel DC Crossover website is designed to provide people with news and information about Marvel Studios, DC Comics, and popular Hollywood movies. And I promise every visitor I will never give any wrong information to them.
Author's full name – Mohd Salman
Author's office address – Joya, Delhi Road, Near HDFC Bank, 244222, Uttar Pradesh, India
Author's office phone number – 8791119243
Author's office E-mail – sh6201427@gmail.com