Last Updated on August 4, 2023 by Mohd Salman
Source:- Wikipedia
Source:- IMDb
Introduction
The clash between Marvel's mightiest heroes always sparks excitement among fans, and one of the most intriguing showdowns is Thor vs. Deadpool. On one side, we have the God of Thunder, Thor, with his immense power and mythical Mjolnir hammer. Conversely, Deadpool, the Merc with a Mouth, is known for his regeneration and unparalleled combat skills. This article explores their strengths, weaknesses, and abilities to determine if Deadpool stands a chance against the mighty Asgardian.
Thor – The God of Thunder
Thor, the prince of Asgard, wields the power of thunder and lightning. As an Asgardian, he possesses superhuman strength, endurance, and longevity, making him a formidable adversary. His primary weapon is Mjolnir, an enchanted hammer that allows him to control the weather, fly, and manipulate energies. In addition to his physical prowess, Thor's wisdom and leadership abilities have made him an essential member of the Avengers.
Deadpool – The Merc with a Mouth
Deadpool, a.k.a. Wade Wilson, is a skilled and unpredictable mercenary. His most notable trait is his accelerated healing factor, which allows him to recover from almost any injury, including regenerating lost limbs. With extensive combat training and exceptional marksmanship, Deadpool is a highly skilled fighter. Additionally, he breaks the fourth wall, displaying a unique sense of self-awareness, adding humor and unpredictability to his character.
Strengths and Weaknesses
Thor's strength lies in his godly powers and abilities. He can summon lightning, control storms, and possesses nearly unmatched physical force among the Avengers. With Mjolnir, he can deliver devastating blows, manipulate the battlefield, and fly with ease. However, like all heroes, Thor has his weaknesses. He has been susceptible to magical attacks and, despite his strength, can be overpowered by cosmic-level adversaries.
On the other hand, Deadpool's most significant advantage is his regenerative healing factor. This ability allows him to recover from wounds that would kill most beings, giving him incredible endurance and resilience in combat. Deadpool's fighting skills and unpredictable nature make him a challenging opponent to predict and defeat. However, he lacks the raw physical power of Thor and is relatively mortal compared to the Asgardian prince.
Battle Scenarios
Thor's godly strength and Mjolnir's powers would likely give him the upper hand in a purely physical confrontation. His control over lightning and weather could overwhelm Deadpool, and even if the mercenary's healing factor allows him to recover from many injuries, Thor's power could be too much for him.
However, if Deadpool employs his wit and tactical understanding, he may find ways to exploit Thor's weaknesses and turn the tide of battle. Deadpool's ability to improvise and unpredictable nature might catch Thor off guard, potentially allowing him to land a significant blow.
Moreover, if the battle takes place in a confined space where Deadpool can use his agility and combat skills to their fullest potential, he may be able to evade Thor's attacks and find openings to strike back. Deadpool's resourcefulness and creativity in using his surroundings as weapons could also level the playing field.
Conclusion
The clash between Thor and Deadpool is a fascinating hypothetical scenario that intrigues fans of both characters. While Thor possesses godly powers and is considered one of Marvel's mightiest heroes, Deadpool's regenerative abilities, combat skills, and unpredictable nature make him a formidable adversary.
Thor's godly might give him the edge in a confrontation, but Deadpool's wit and resourcefulness may offer him opportunities to exploit the Asgardian's weaknesses. Ultimately, the outcome of such a battle may depend on the circumstances, location, and the characters' mental states.
However, it's important to remember that comic book battles often transcend logic and physics, and the outcomes are usually determined by the writers' imagination and the plot's requirements. As such, the question of "Can Deadpool beat Thor?" remains a subject of endless debate among Marvel enthusiasts, adding to the excitement and wonder of the superhero universe.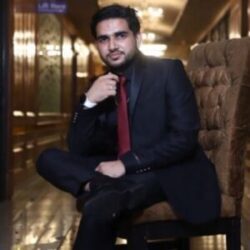 My name is Mohd Salman; I belong to Uttar Pradesh in India; I am a professional businessman, writer, and blogger. Marvel DC Crossover website is designed to provide people with news and information about Marvel Studios, DC Comics, and popular Hollywood movies. And I promise every visitor I will never give any wrong information to them.
Author's full name – Mohd Salman
Author's office address – Joya, Delhi Road, Near HDFC Bank, 244222, Uttar Pradesh, India
Author's office phone number – 8791119243
Author's office E-mail – sh6201427@gmail.com