Last Updated on August 12, 2023 by Mohd Salman
Source:- Wikipedia
Source:- IMDb
The Marvel Cinematic Universe has introduced many powerful characters, but few can match the might of Scarlet Witch and Thanos. These two have clashed twice on the big screen, in Avengers: Infinity War and Avengers: Endgame, with different outcomes each time. But who would win in a fair fight without external factors or interference? Here are some reasons why Scarlet Witch and Thanos would win.
Why Scarlet Witch Would Win?
– She has reality-warping powers. Scarlet
Witch's abilities are derived from the Mind Stone, one of the six Infinity Stones that Thanos sought to collect. She can manipulate matter and energy, create force fields, fly, and cast spells. She can also alter reality somewhat, as seen in the WandaVision series, where she developed a whole town under her control. Her powers are so immense that she can destroy an Infinity Stone while holding off Thanos with another hand in Infinity War.
– She has a personal grudge against Thanos.
Scarlet Witch has suffered much loss and trauma, and Thanos is responsible for some of it. He killed her lover Vision in Infinity War and snapped away half of all life in the universe, including her. When she faced him again in Endgame, she was filled with rage and grief and declared, "You took everything from me." Her emotions fuel her powers, making her more determined and dangerous.
– She almost killed him in Endgame.
In their second encounter, Scarlet Witch proved to be a formidable foe for Thanos. She overpowered him with her telekinesis, tearing off his armor and lifting him into the air. She then started to crush his body, causing him to scream in pain. He was so desperate that he ordered his ship to fire on the battlefield, even if it meant hitting his troops. If not for that intervention, Scarlet Witch might have finished him off.
Why Would Thanos Win?
– He is physically more potent and more durable.
Thanos is a Titan, a race of beings with enhanced strength, speed, stamina, and durability. He can withstand powerful attacks from Thor's Stormbreaker, Captain Marvel's photon blasts, and Iron Man's repulsors. He can also dish out devastating blows with his fists or double-bladed sword. He can easily overpower most opponents in hand-to-hand combat, as he did with Hulk in Infinity War.
– He is more intelligent and more experienced.
Thanos is not just a brute but also a genius and master strategist. He has spent centuries conquering planets and collecting the Infinity Stones. He knows how to use his resources and allies to achieve his goals. He can also adapt to different situations and improvise when needed. For example, he used the Power Stone to blast away Captain Marvel in Endgame and Loki's scepter to stab Vision in Infinity War.
– He has access to powerful weapons and technology.
Thanos has a vast arsenal of weapons and technology at his disposal. His spaceship, the Sanctuary II, can unleash massive firepower on his enemies. He has his loyal army of Outriders, Chitauri, Sakaarans, and Black Order members, who can swarm and overwhelm his foes. He also has his Infinity Gauntlet, which can harness the power of the Infinity Stones. With the Gauntlet, he can manipulate time, space, reality, mind, soul, and strength. He can snap his fingers and wipe out half of all life in the universe.
Conclusion
In the ultimate showdown between Scarlet Witch and Thanos, the outcome is a complex interplay of raw power, personal motivations, and strategic insight. Scarlet Witch possesses reality-warping abilities of immense magnitude, fueled by her emotions and her history of loss. Her near-victory over Thanos in Avengers: Endgame showcased her ability to overpower the Titan physically and demonstrated her formidable strength.
On the other hand, Thanos stands as a powerhouse in his own right, with physical prowess, durability, and unmatched strategic intellect. His centuries of experience in conquest and access to advanced technology, weaponry, and the Infinity Gauntlet grant him a significant edge. His command over his forces and the mastery of the Infinity Stones allow him to manipulate the fabric of reality itself.
Ultimately, a hypothetical clash between these two titans is a scenario where victory could tilt either way, depending on the circumstances and how the story unfolds. Scarlet Witch's emotional determination and reality-warping capabilities could disrupt Thanos's tactical advantage, while Thanos's strength, experience, and access to overwhelming forces and cosmic weaponry could counterbalance Scarlet Witch's powers.
Ultimately, the outcome hinges on the narrative context, the characters' emotional states, and their strategic decisions in battle. Marvel fans, eager for a hypothetical face-off, can only speculate on the epic encounter that could unfold between these two mighty beings.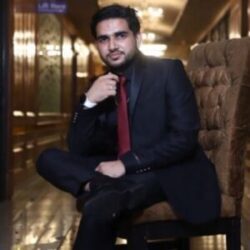 My name is Mohd Salman; I belong to Uttar Pradesh in India; I am a professional businessman, writer, and blogger. Marvel DC Crossover website is designed to provide people with news and information about Marvel Studios, DC Comics, and popular Hollywood movies. And I promise every visitor I will never give any wrong information to them.
Author's full name – Mohd Salman
Author's office address – Joya, Delhi Road, Near HDFC Bank, 244222, Uttar Pradesh, India
Author's office phone number – 8791119243
Author's office E-mail – sh6201427@gmail.com